HOST THE BEST KIDS PARTY IN BRISBANE EVER!
YOU BRING THE GUESTS, WE BRING THE FUN
Our No.1 focus is to provide our customers with the ultimate birthday celebration that will give your child and guests a fun filled day with happy memories to last a lifetime! Our parties take adventure and fun to the next level with a focus on adventure, challenges, team games and free-style activities. With 5 party options to choose from, suitable for all ages, interests and abilities and access to over 10 awesome activities under one roof we truly are Brisbane's No.1 when it comes to adventure parties, offering something for everyone!
Urban Xtreme is one of the best kids and teen party venues in Brisbane. Birthday Parties at Urban Xtreme are super fun, super active and most importantly, 100% hassle-free!
With multiple options and activities to suit all ages and interests, we've got you covered. It couldn't be easier – choose your birthday party package from over 10 awesome activities across Adventure, Climb, Snowsports and Playland, rally the guests and we'll do the rest!
Home to the best party packages and the No.1 kids party venue in Brisbane!
Plan in advance or need a last-minute booking? No worries we've got you covered. You're guaranteed a 100% hassle-free birthday party.
All Birthday Parties are for a minimum of 10 guests or more.
BOOK NOW and party with confidence.
5 SUPER FUN PARTY PACKAGES
When it comes to choosing the right kids' party venues to suit your child it's just as important to choose the right package your child will love! At Urban Xtreme we have 5 awesome fun packages to suit all ages, interests and abilities. Talk to to our friendly team if you want to know more about the best kids and teenage birthday party ideas in Brisbane.
Is it time to bring out their inner ninja? Would they love a laser tag adventure, skiing down our indoor slope? OR climbing to new heights like Spiderman, leaping and twisting like a gymnast or bouncing on huge trampolines? Take a look at 6 party packages to choose something super fun for your next birthday party!
WHAT'S IN YOUR PARTY PACKAGE?
EACH PARTY IS A DIFFERENT KIND OF FUN BUT ALL COME WITH:
 Exclusive access to your party table with balloons provided. You can even decorate it!

A party host – to greet and provide party catering and celebration services. Please note that Dedicated Party Hosts are only included with Climb + Adventure and Snowsports + Adventure Parties.

A great selection of catering options – see below for our Catering and optional Party Platter options! Plus Bottomless Popcorn for all parties! There's something perfect for every party! If you have dietary considerations, please let us know!

30 mins of catering & cake time

Grown-Ups Treat – x2 Large Drinks for the birthday child's Grown-Ups

UX Grip Socks – included in EVERY party – closed runners/sports shoes also required
1. CLIMB + ADVENTURE PARTY
THE ULTIMATE EXPERIENCE!
2.5 HOURS FROM $50 PP
| | | |
| --- | --- | --- |
|    Min. 110cm |    Enclosed shoes required |    Minimum 10 guests |
You get the standard party inclusions:
45 mins of Xtreme Climb experience*
1.25hrs of Adventure Activities including Trampolines, Dodgeball, Launch Jump, Laser Tag, Ninja**& Parkour**
30 mins of catering & cake time
UX Grip Socks
Dedicated Party Host
*Must have 1 adult per 4 guests during climb. **Guests under 120cm require an adult to assist.
2. SNOWSPORTS + ADVENTURE PARTY 
THE COOLEST PARTY EVER!
3 HOURS FROM $56 PP
| | | |
| --- | --- | --- |
|    Min. 110cm. Snowboarders: 130cm |    Enclosed shoes required |   Min. 8 guests. 6yrs+ |
You get the standard party inclusions:
1.25hrs of Ski or Snowboard session (incl. boot fitting)
1.25 hrs of Ninja**, Parkour**, Trampolines, Dodgeball, Laser Tag & Launch Jump.
30 mins of catering & cake time
UX Grip Socks
Dedicated Party Host
*1 discipline only is recommended (ski or snowboard). For groups of 12+ please contact us to arrange
** Guests under 120cm require an adult to assist. Enclosed Shoes required for Ninja, Parkour & Laser Tag
3.  XTREME NINJA + ADVENTURE PARTY
XTREMELY FUN FOR EVERYONE!
2 HOURS FROM $44 PP
| | | |
| --- | --- | --- |
|    Min. 110cm |    Enclosed shoes required |    Minimum 10 guests |
Our most popular party option! Make this the most Xtremely fun birthday ever!
You get the standard party inclusions:
1.5 hrs of Adventure Park activities: Ninja**, Parkour**, Trampolines, Dodgeball, Laser Tag & Launch Jump.
30 mins of catering & cake time
UX Grip Socks
*If sold out please select the next available day. Does not include Snowsports or Climb access. 
**Guests under 120cm require an adult to assist. Enclosed Shoes required for Ninja, Parkour & Laser Tag
SHARE YOUR ADVENTURE WITH YOUR BESTIES!
1.5 HOURS FROM $36PP
| | | |
| --- | --- | --- |
|    Min. 110cm |    Enclosed shoes required |    Minimum 10 guests |
Life is an adventure so why shouldn't your next party be the same? Our Adventure Parties include: 1 hr access to Laser Tag, Trampolines, Dodgeball and Playland.
You get the standard party inclusions and 30 min catering, plus:
1 hr of Adventure Park activities: Trampolines, Dodgeball, Launch Jump**, Laser Tag & Playland
30 mins of catering & cake time
UX Grip Socks
*Does not include Ninja,  Parkour access. Playland maximum height 120cm.
**Launch Jump minimum height 120cm.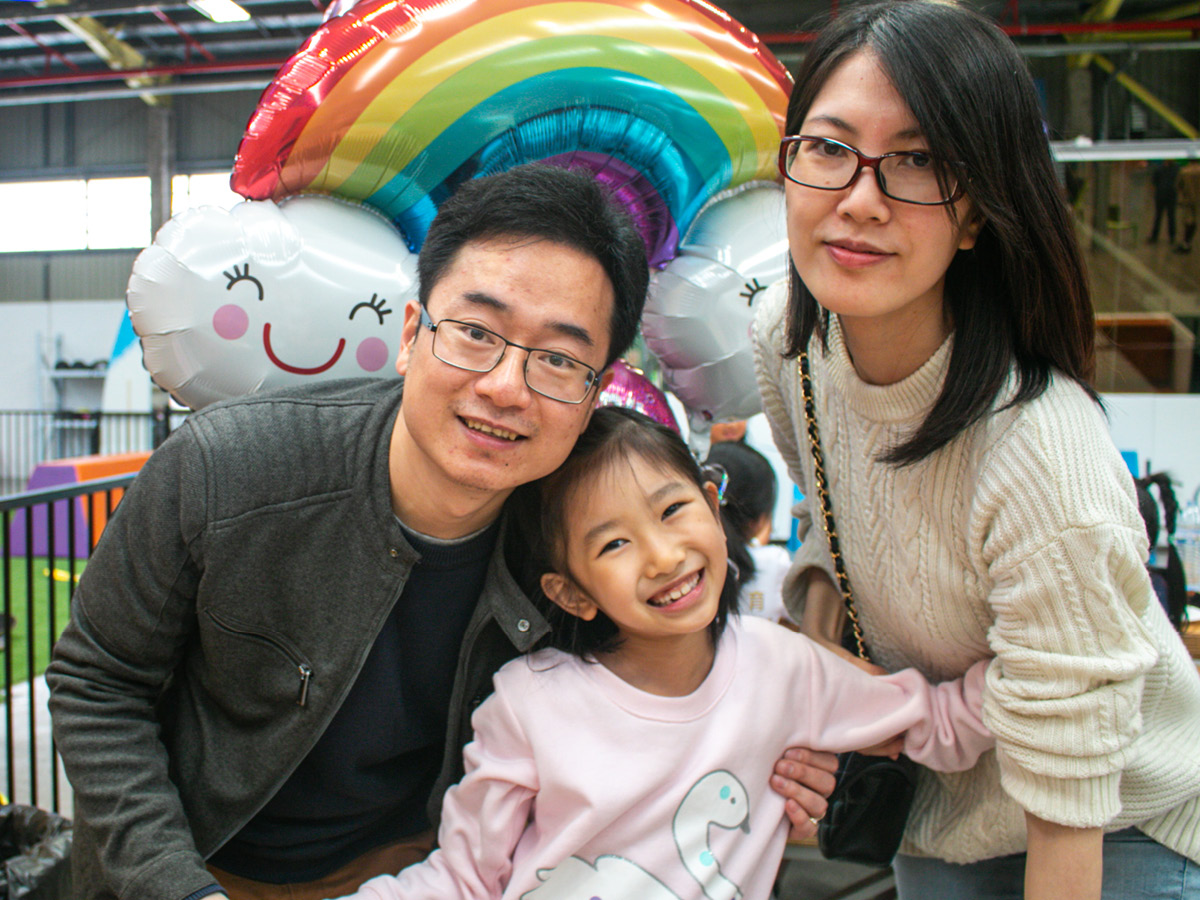 BIG FUN FOR LITTLE ADVENTURERS!
1.5 HOURS FROM $28PP
The perfect party for kids aged 6 and under! Being little doesn't mean you can't enjoy big fun! Our Playland Party includes 1hr access to the Playland!
You get the standard party inclusions and 30 min catering, plus:
1hr of Playland activities: Slides, Playland Gym, Fun Climb, Mini Trampoline & Mini Cars
30 mins of catering & cake time
UX Grip Socks
*Maximum height for Playland is 120cm. Upgrade options available for older guests (subject to availability). 
CHOOSE A DELICIOUS CATERING OPTION TO FUEL THE KIDS
SANDWICHES & WRAPS
Our healthy party food and drink catering options includes sandwiches (1 per guest), fairy bread, bottomless fruit juice and water! Sandwiches are mixed and include Ham and Cheese, Chicken, Lettuce and Mayo, Vegemite and Cheese and Salad served at your reserved party table.
PIZZA
Everyone loves pizza and this catering package is our most popular! It includes a pizza order (1 pizza per 3 guests), lollies, bottomless cordial, water and popcorn.
NUGGETS & CHIPS
(ONLY AVAILABLE FOR PARTIES FROM THE 1ST OF MAY)
A fan favorite! Hot chips and nuggets! It includes a nuggets and hot chips, lollies, bottomless cordial, water and popcorn.
OPTIONAL PARTY PLATTER ADD-ON'S
Need a little more to feed those hungry guests? Why not add on a Party Platter!? Choose from our… Sandwich Platter, Wrap Platter, Fries Platter, Fruit Platter (seasonal fruit) or Fairy Bread Platter.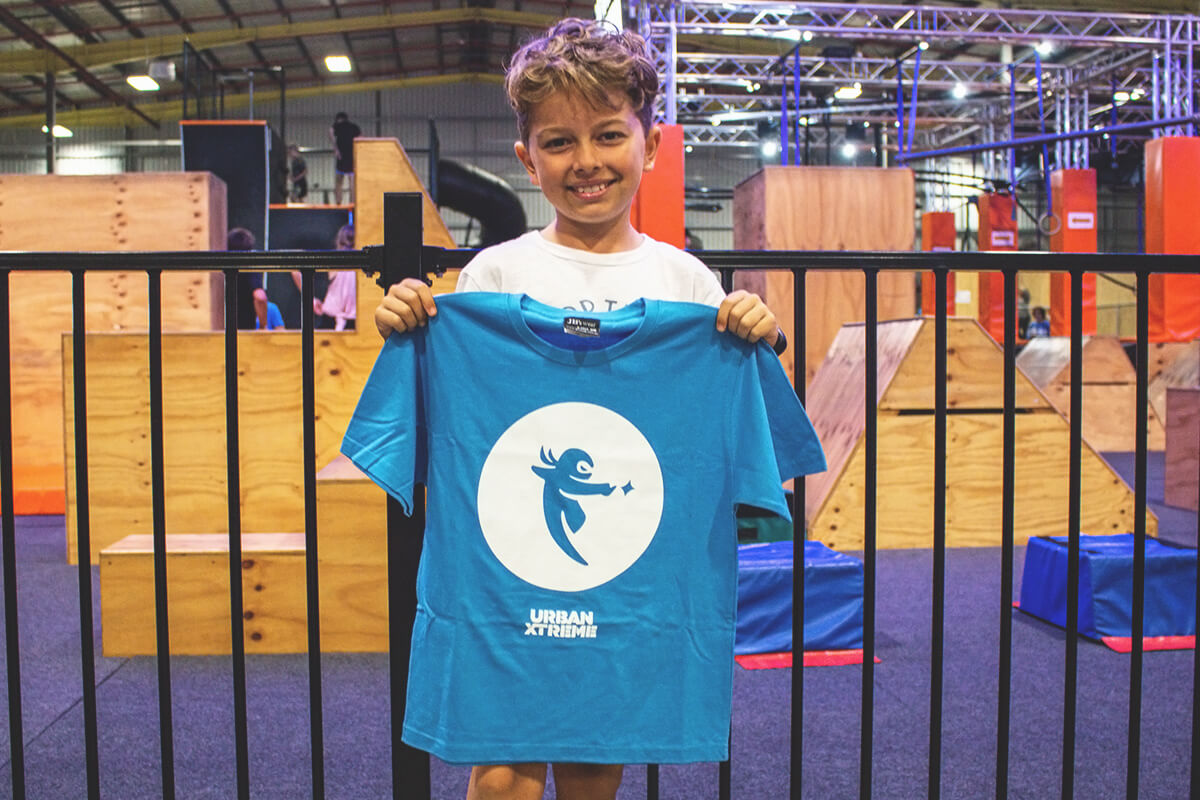 ADD THESE GREAT KIDS PARTY OPTIONS ON!
There are few teen or child birthday party venues that can look after everything like we do at Urban Xtreme! We think of everything at our adventure sports park to make your party hassle-free! Check out our show-stopping add-ons:
Ice cream cake (serves 8 – 12 party guests)
Icy cold slushies
Exclusive ninja, jump or climb T-shirts,
Party Bags, and food platters
A dedicated party host for your whole party experience
Anything else special that you need? We'll do our best to make your event XTREMELY SPECIAL for your birthday child and guests.
GET YOUR PARTY STARTED!
It's so easy to choose the right package from one of the best kids party venues in Brisbane with safe, super fun and supervised birthday events perfect for:
Active kids – from little ones to high schoolers
Fearless teens – to show off their inner daredevil
Busy parents – to relax, mingle or join in the fun!
Hosting the best party in Brisbane at Urban Xtreme couldn't be easier with 3 simple steps.
| | | |
| --- | --- | --- |
| 1. Choose your birthday package! | 2. Rally the guests | 3. We'll do the rest! |
WANT TO MAKE YOUR PARTY STAND OUT?
Our fun invitations are bright! They're colourful! They'll get your guests in the mood for some Xtreme fun! And… they're included with every party package!
Simply follow the download link in your confirmation email after booking a Party to receive your Urban Xtreme invitations!
We know you have all been waiting for this moment and we are happy to announce you can book now and pay later!
To take advantage of Afterpay, please pay at in-park reception. Got a question? Give us a call and one of our Xtreme Customer Service Team Members will be able to help!
I went rock climbing with a few friends. The staff were very helpful and friendly. Was a really good experience!
Ben McCormack
10:59 23 Jun 22
By far the best indoor adventure park ive ever been to. So many activities for all ages. Could easily spend an entire day here with the kids.

...

Absolutely recommend urban xtreme for day out or kids party

read more
We had an amazing experience for our sons 9th birthday. The kids loved it! Staff are very friendly and helpfully. Would highly recommend Urban Xtreme!
Mizutani Asuka
11:02 10 Jun 22
Was so much fun for both our 9 year old and 1.5year old. Safe to say they slept well that night 💛 Mr 9 has requested his big double digit

...

10th birthday there.

read more
Katelyn Springall
20:36 09 Jun 22
Amazing family fun. So much to do you won't want to leave. A perfect party venue or day out that the kids and teens will love.
Roy Bourke
09:00 09 Jun 22
Unleash your inner ninja! Or speed climb up the rock wall! Lots of fun for all...give it a go...you might surprise yourself...
Adrianne Makutu
08:10 09 Jun 22
My son had the BEST birthday party ever at Urban xtreme. From the little one(age 1) to big kids 11 as well as the dads!!!(lasertag) had the TIME OF

...

THEIR LIVES. Thank you so much! We'll be back

read more
Lize Wessels
02:59 06 Jun 22
I took my two kids aged 10 and 9 to Urban Extreme for rock climbing. Fantastic setup and really helpful staff which I appreciated as it was our first

...

time rock climbing. Recommend hiring the shoes but getting them at least one size bigger than your normal sports shoe size.We will be back to do the other activites as there was so much choice, but my arms were cooked after the 2 hrs of rock climbing.Neil F

read more
Neil Frawley
03:20 31 May 22
Grandkids had a great time and looking forward to coming again - 2 hours where they were totally engaged and having fun being physically active.
Donna Roberts
23:42 24 May 22
Excellent birthday party here - kids thoroughly entertained and worn out! Great food options and host took care of kids for the whole party... very

...

pleased 👍

read more
Nicola Reeves
05:10 21 May 22
Brilliant park. Facilities are wonderful. Heaps for kids of all ages to do. Couldn't enjoy Urban Xtreme more.
Fantastic place for the kids. My two children had a blast, they tried everything they can with the adventure pass. My youngest one is already

...

planning to come back the next weekend 😅 and his dream might become true as it's raining.

read more
Héloise Palomeres
09:39 19 May 22
Great value for money with trampolines, ninja course, parkour and laser tag included. The ninja course is very challenging and great to be able to

...

play endless laser tag. All of our children's favourite things for one price and staff are always friendly and helpful.

read more
Karen Vesovic
12:19 15 May 22
Great fun with the boys. Some adult sessions would be great. (They might have these but didn't see it anywhere advertised).
Peter Mansell
07:01 15 May 22
Had my sons party at Urban Xtreme. Kids loved it. Our host, Vincent was amazing. Incredibly accommodating and related well with the kids. Highly

...

recommended

read more
Liam Tovey
10:42 14 May 22
My 3 boys had so much fun. The staff was very helpful and nice. The variety of activities just perfect to keep my boys entertained. We all had 2

...

hours of fun and will be returning for sure.

read more
Katarzyna Reimus
12:37 12 May 22
Staff at Urban Extreme were amazing!! Good value for money, great activities, the laser tag was alot of fun as well as the running wall. Loved that

...

staff supervised showed safter demonstration for rock climbing. High recommend!!

read more
Ashleigh Charlton
10:39 12 May 22
What an awesome place to visit. The kids and I had great fun. Huge variety of the things to do. Really enjoyed the lazer tag and Ninja course.
An excellent way to spend a few hours with the kids, they absolutely loved it! From 1year olds to teenagers there is something to entertain everyone.

...

Our boys beg to go every week.

read more
Annika Smith
20:29 05 May 22
Great staff, great system that ensures fair time for all around the circuit, clean and most of all the kids love it.
Marty Robson
08:56 04 May 22
We had our sons birthday party here recently and everyone had an amazing time. There were som many activities for the kids to do and our host was

...

great.

read more
Meagan Casey
02:28 04 May 22
I took my son to urban xtreme for the first time last week, he is 4 and he absolutely loved it. Although he was a little small for the ninja warrior

...

part he still gave some of the challenges a go. He also tried láser for the first time as he hates the dark and absolutely loved it as there was plenty of light. We will definitely return

read more
paula montoya
11:36 30 Apr 22
Excellent equipment, well priced for what you get to do and friendly staff. My children had an awesome time. Highly recommend.
Love the climb and creche offering on a Sunday. The kids had a great time with a friendly staff member (Morgan), while we enjoy our time together

...

doing some rock climbing. Great way for both parents and kids to enjoy themselves on a Sunday morning while still keeping active. Will make it a regular activity.

read more
Was so surprised by how much was on offer for my under 4s. They loved the ball pit, trampolines, climbing wall, and playgrounds so much. The place is

...

also really well designed so that I could put the baby down, watch my older kid, give them lunch, and quietly have a coffee. Will definitely be back! Thanks heaps 😀

read more
Kelly Palmer
05:31 28 Apr 22
We visited on a weekday with our 3 year old and got a 3hour pass for $15 which was pretty good value for money. We had access to the playland which

...

is fully fenced and has table and chairs so you can see your kids on the playground from the seated area. There's a jumping castle, trampoline, softplay area, toddler slide and a huge ball pit.We also had access to the free style trampoline area.We ordered some food which was pretty average. I felt the food was a let down unfortunately.We would visit again if in the area but we were there to kill time before picking up family from the airport.Highly recommend this place for the activities they have on offer.

read more
Thea Hunter
23:50 26 Apr 22
My family really love our visits here and always have a great time. We've been visiting since they opened and parts of it were still under

...

construction. It's never lost its appeal. It's also reasonably priced and affordable for families.

read more
Jess Wakefield
21:08 25 Apr 22
This is our favourite play centre in Brisbane….lots of room to sit and chat while kids play. So many choices for the kids to keep them entertained

...

for hours…..ninja course, trampoline park, laser tag, dodgeball, soft play for the little ones…something to suit everyone and they never want to leave.

read more
Caroline H
11:40 24 Apr 22
Absolutely fantastic concept, delivered to the highest of standards. Super friendly team who clearly all love their jobs. This was the highlight of

...

my kids' three week visit to Australia, beating koala holds, surf lessons and many other experiences to that title. The only thing that let it down was the amount of plastic waste generated by the water station. I was sat by it and saw literally hundreds of people throwing the large, rigid plastic cups away after one use. PLEASE consider switching to paper cups/cones. You could massively reduce your environmental impact and I'm sure would save a small fortune in the process.

read more
Steve Sutherland
11:08 24 Apr 22
Urban extreme had something for all ages. Coffee for parents, a playground for younger adventurers and the ninja course, dodgeball and laser tag were

...

great for our teenagers.

read more
Angela Parker
06:57 22 Apr 22
This was our first time at Urban Xtreme and we had a fantastic experience. Great facility to keep all three of my children aged 9, 7 & 4 occupied.

...

The older kids especially liked the laser tag. We'll definitely be going again next holidays.

read more
Meghann O'Dea
11:16 20 Apr 22
Brilliant Fun!After successfully dodging Covid- we booked in a birthday party for our 8yr old to Urban Extreme- and it was everything as epic as he

...

had hoped and more.As the party slots themselves were fully booked, we arranged a Saturday night- booking as a group and bought along our own cake and snacks. Although my son was firstly disappointed that we couldn't get an actual "party" booking- it turned out better than ever with a simple group experience.The venue was quiet on a Saturday night which meant we only shared it with around 20 other patrons- There were no long line ups to play dodge ball or run the warped walls- everyone had a ball!The staff went above and beyond to ensure the kids all had a fantastic time.A credit to the manager on duty who looked after us as though we had a "party" booking. As parents we cannot thank him enough for how wonderfully accomodating he and his staff were with a troupe of 8 year olds on a Saturday night.Our boys love Urban Extreme and I would not hesitate to recommend hosting a party at this action packed play space!*visited in November 2021*

read more
Sarah-Jane Wicks
06:11 20 Apr 22
My son (12 years) and his mates had a fantastic time at his Xtreme party. Plenty for them to do, party host Nathan was positive and enthusiastic.

...

Highly recommend for parties.

read more
Alice Dowden
23:34 19 Apr 22
Great place for kids and adults, all ages. There's many activities to do that will give you some good exercise for a few hours.
Mark Beauman
05:29 18 Apr 22
The Ninja facilities are amazing! The staff were knowledgeable, friendly and caring towards the kids. We can't wait to come back!
Kathryn Price
21:39 15 Apr 22
Excellent experience. My daughter loves it. We paid for 3hours and she definitely got 3 hours worth. So much to do that she doesn't get bored
Leigh murray
04:43 15 Apr 22
Great place for the kids to burn off energy. So many activities for them to do. The school holiday passes are great value. We will be back
Damien Martin
03:54 15 Apr 22
I had a great first public ski session with Aaron and he's very knowledgeable and made the lesson very fun. I would highly recommend this.
Mei Jun Messner
12:21 14 Apr 22
Great rock climbing walls. Friendly staff and great service 🙂 We will be back.Will learn to snowboard here too 🙂
Evie Massingham
09:44 14 Apr 22
Great way to spend a couple of hours with the kids. The staff were always alert and very encouraging towards my 5 and 7 year old girls!
Daniel Holmes
09:39 14 Apr 22
Amazing experience, great for kids on holidays, fair pricing and equipment clean and fun , lots of options.
Angus Cattanach
00:50 11 Apr 22
Kids will want more than 2 hours here!Such a good range of activities, which is awesome when your kids are of different ages. The staff are all

...

really nice & helpful. The centre is well ventilated, doesn't get hot & gross. Wouldn't hesitate to return.

read more
noni ruksenas
20:27 10 Apr 22
My twin 7 year old boys loved it. I couldn't get them out of laser tag after the two hours. They continued to challenge themselves for the whole

...

time, trying the ninja course multiple times. We have already booked to go back again this week...two times in one week, plus we have done an intro skiing lesson here previously. Best holiday activity ever!

read more
Great fun for the kids or adults. My daughter and her friend had a smashing time bouncing, ninja course, laser tag, playground. So much to do. Enjoy

...

coming here.

read more
Monkeys Softball
16:04 31 Mar 22
kids love this place, not much parking and disabled park is a little ways down from the front, there is a ramp and easily accessible. good seating

...

for parents to chill out while kids have their fun

read more
Ekayla Murphy
01:33 28 Mar 22
An awesome place to take the kids and join in the fun! The ninja section is challenging but fun to attempt.
MaryJo Wood
00:20 25 Mar 22
We held my sons 7th birthday party at urban xtreme it was amazing! all 17 boys had the most amazing time. would 100% do this again!
tieana kirkham
11:16 24 Mar 22
We had an amazing time celebrating my son's bday. The activities were great and only improved by the excelent service.Having a party host was the

...

right choice for us, was better than expected.I love going to this place and enjoying it along my son. Will be back.. many times.

read more
Sergio Sierra
02:09 23 Mar 22
Great atmosphere, our Party host Ava was professional and made the whole experience easy and enjoyable.
Mac Milner
23:46 17 Mar 22
First time attending the kids were in awe. No complaints and stayed for 4 hours. Favourite activity was the later tag!Will be coming back to try

...

rock-climbing.

read more
Karmin Piercy
20:31 17 Mar 22
Had a great day. Ava you were an amazing host patient,kind and tryed really hard to keep us on schedule and pronounce our kids name correctly. Thank

...

you for a great experience and going above and beyond for us. We appreciated it.

read more
Lyric Reid
13:34 12 Mar 22
Awesome day out for our family celebrating my nephews birthday. Ava was AMAZING!! She was fun, attentive and just had an amazing vibe throughout the

...

day. Thank you Ava!!

read more
Paigey Terauaroha
13:24 12 Mar 22
This place was amazing for the kids.So many different activities and can I please make a huge emphasis of how amazing the staff were. So helpful and

...

so friendly and ALWAYS had a smile on their faces.

read more
Valiant Sinclair
12:58 04 Mar 22
Amazing venue that offers all types of fun interactive exercise for kids and adults. My kids beg me to go every day, staff are extremely helpful and

...

loads of space to spread out on tables if you just want to chill and watch the kids have loads of fun

read more
Samantha Moller
23:18 03 Mar 22
We had a fantastic time at Urban Xtreme, dodge ball and laser tag were my son's fav's while my daughter loves the majestic aerial classes with Les.
Lisa Geddes
00:34 10 Feb 22
The venue is clean and has great equipment/activities and a great layout. Staff are friendly and personable. Kids had a fantastic time, can't wait to

...

go back there.

read more
Laurina Yam
06:27 08 Feb 22
Great adventure park, the ninja course and wall is a must. The rock climbing team are great and the walls have a good range for all ages.
James Murray
21:24 27 Jan 22
Such an awesome place. Kids loved it so much, they stayed nearly 4 hours. All the amenities were very clean. The team were very attentive to the kids

...

and happily assisted with all their needs out there. Was really impressed they employed a down syndrome guy. He was so happy assisting all the kids, making sure all the props were placed correctly, made him feel important and needed. 🥰We will be back for sure.Thanks Urban Xtreme💁‍♀️

read more
Sharon Sapsford
11:56 27 Jan 22
The staff are very kind and friendly with the kids showing them how to manage obstacles and encouragement from them is lovelyHuge facility with lots

...

too do

read more
My kids have joined in a few different days for the school holiday program and have been having a blast. They have done some days with their siblings

...

and some days with friends and they are really enjoying the different activities. Plus it tires them out for the rest of the day which is awesome! Thanks guys for having this fun activity during school holidays.

read more
Anike Hope
05:32 14 Jan 22
Great day out with the family they all had heaps of fun and reasonably priced. Definitely going back again and this time ill be joining the fun
Adam Waerea
08:05 13 Jan 22
Urban Xtreme provided my niece a great place to develop skills in a dynamic, safe, well staffed and maintained space. I wish this type of centre was

...

around when I was kid! I really enjoyed the encouraging atmosphere of 'give it a go' that was scaffolded well by all the attentive and friendly staff. Well done!

read more
claremarie apelt
05:21 13 Jan 22
Great way to get kids off screens and some exercise without knowing they are having exercise! Lots of staff supervising so good place to set up a

...

laptop if you work from home and let the kids run wild

read more
Christine Abson
23:42 12 Jan 22
PARTY DETAILS
50% deposit is require to secure party.
Full payment will be required 7 days prior to your booking. Last minute parties booked within 7 days require full payment.
Online sales close 4 days prior to party sessions. To book a last minute party you can all call us on 1300 872 269 to discuss options.
CANCELLATION & REFUND POLICY
All bookings are non-refundable. We are not required to provide a refund, credit or transfer if you change your mind. Please visit https://www.urban-xtreme.com.au/refund-policy/ for more information.
NO.1 PARTY VENUE OFFERING THE ULTIMATE ADVENTURE WITH 6 AWESOME PARTY PACKAGES
Kids love adventure! Urban Xtreme is the only Brisbane venue where your birthday child and guests can choose from Adventure, Climbing, Snowsports & Playland. With multiple options and activities found in our Adventure Park, we are No.1 when looking for kids' party venues in Brisbane. Which party will you choose?
Our kids' party venues are full of adventure, with activities to suit all ages and interests, we've got the best kids birthday party ideas in Brisbane!